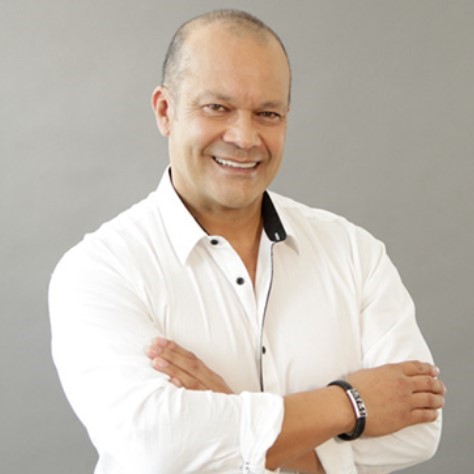 This is me… the good, the bad and the ugly!
I was born in Mauritius. I was around three years of age, in full leg braces suffering from polio, when my father died, after an agonising three-year stint in a wheel chair, paralysed by a severe stroke. My mother then a still young beautiful wife faced the impossible responsibility of bringing up my two elder sisters and me.Whilst life in Mauritius was difficult for me, there were some good times. I have vivid and fond memories of playing soccer with my friends on the gravel road outside our house, being selected as school captain for three years in a row., captaining the soccer team to a historic inter-school victory and of course the relentless and unconditional love and affection of my mum and my two sisters. At school, I was always in the top five students. Scholastic achievement was a very important goal back home as it was seen as a passport to a better life for oneself and the family. I always studied hard and achieved. I was always happier when I saw the smile on my family's faces not necessarily the pat on the back and the certificate from the headmaster. I had to work hard, I had to succeed, and I had to surpass all odds just as mum was doing for her children. With all that happening around me, subconsciously I took on the role of my father. I now appointed myself to do all things that he would have done had he been alive.
I was always entrepreneurial, creative, building, and fixing things. From the age of nine, I was making sling shots out of left over strips of elastic bands from mum's sewing, carved small sailing boats out of wood and dust pans with long handles from old oil cans and sold them to the local shopkeeper and school friends for a few rupees that went a long way towards school books, but never enough to buy that elusive pair of soccer boots that was always on my Christmas list. Earlier childhood was also full of hospital visits for me. Ranging from severe asthma attacks to diphtheria to a gangrenous infection to being given hours to live after swallowing a two-cent coin, I became well known at the local hospital.
I was 13 when mum made the courageous move to Australia. I attended Chandler High school, a small public school in Noble Park. I had little English, spoke with a very strong French accent, played soccer (rather than Aussie rules) dark in complexion, dressed differently and was taller than the average 13 year-old. What a freak... was the look I got from my class mates and teachers alike? In those earlier days, migrants like me were few and far between, at least at Chandler High. I was always different at school and was never really accepted. Sometimes I felt like ending it all.
I went on to build a substantial consulting business, studied Economics and Commerce, completed to Masters' degrees and a PhD. However, my achievements taught me very little about life and it vagaries. My biggest learnings came late in life when my world fell apart, fell in a dark hole and hit rock bottom, maybe even a few metres below. I lost everything- my family, my reputation, my finances and my will to go on. Guess what, I dug deep, dug myself out of that dark hole and now dig the business of life. I would love the opportunity to share more of me with you.